SCOTTSDALE, AZ — Since the advent of the Coronavirus crisis millions of Americans have addressed the fears and challenges raised by COVID-19 through prayer. As part of a new two-dimensional national survey of U.S. adults commissioned by The Presidential Prayer Team, a non-partisan, non-profit organization, profiles the prayer life of Americans. The survey of the…
WASHINGTON — The Museum of the Bible has partnered with Trinity Broadcasting Network (TBN) to produce "The Truth I'm Standing On," a concert featuring high-profile recording artists sharing songs about healing during this difficult time for our country and world. TBN will broadcast the concert as a two-part event. Part one aired Friday, July 31,…
BANGALORE, INDIA — According to a report by World Vision up to 8 million children have been pushed into child labor and begging due to the worldwide economic effects resulting from the COVID-19 pandemic. Following assessments carried out in 24 countries, the charity says at least 110 million children have gone hungry due to the…
WASHINGTON — The International Committee on Nigeria (ICON), a nonprofit working to secure a future for all Nigerians, launched a new Data Tome ("report") today proving the religious persecution and genocide that has been occurring in Nigeria over the last 20 years. The report includes recent testimonies of some of the more than 60,000 victims…
LONDON — COVID aid is being refused for Christians in some countries unless they refuse to renounce their faith in Christ. In response, Open Doors is mobilizing its partners in some of the worst-hit countries to provide vital emergency food supplies. Persecution watchdog Open Doors UK & Ireland says it is "inundated" with reports of…
LONG BEACH, CA — The number of Christians persecuted for their faith has risen 20% in just two years. Currently, there are over 260 million people across the globe who face high levels of persecution because of their faith in Christ. Shockingly, the growing crisis of Christian Persecution is widely ignored by the media and…
WASHINGTON, DC – The United States Commission on International Religious Freedom (USCIRF) today mourns the death of Tahir Ahmad Naseem, a U.S. citizen who was shot in a courtroom in Peshawar, Pakistan on July 29, 2020. The assailant claimed to have shot Naseem because he had belonged to the Ahmadiyya faith. "Pakistan's blasphemy laws are…
WASHINGTON — On Monday, July 20th, Advisor to the President, Ivanka Trump joined CityServe and its partners at the DC Dream Center in Washington D.C. to distribute food boxes from the United States Department of Agriculture (USDA) Farmers to Families Food Box Program distribution. In partnership with the DC Dream Center and Operation Blessing, 1,000…
RALEIGH, NC — A major new study reveals "an overwhelming majority" of donors don't expect COVID-19 will curtail their charitable giving for the rest of the year. But experts warned nonprofit organizations not to be complacent in their fundraising efforts, saying there will be "winners and losers" in the quest for donations. The comprehensive, nationwide…
MERCER ISLAND, WA — Today, Best Christian Workplaces Institute (BCWI) honored 76 faith-based organizations as Certified Best Christian Workplaces for 2020. These organizations met the certification standard determined by exemplary ratings from their employees who completed BCWI's groundbreaking Employee Engagement Survey between January and July 2020. All organizations evaluated their workplaces based on BCWI's proprietary…
WILLS POINT, TX — One of the world's leading mission agencies has called for "compassionate prayer" after more than 160 people were killed by a horrific mudslide at a jade mine in northern Myanmar earlier this month. Several Christians living in a nearby village work at the jade mine, but fortunately no one from the…
COLOMBIA — A Samaritan's Purse medical team in Colombia is screening Venezuelans for COVID 19 before they return to their country over the Simon Bolivar Bridge. Team member Paula Melo explains why she believes God has called them to be there at this moment to bless those returning home. Paula Melo, Samaritan's Purse My name…
EASTON, MD — SAT-7 Kids in a media ministry to hildren living in a "world of fear" in the Middle East. Through a live Facebook event, they are helping kids to conquer their deepest anxieties — by sharing their own uplifting faith with others on satellite television and social media. Entangled in wars, social unrest,…
CARY, NC — SIL International's Academic Publishing group announces the highly anticipated release of Katharine Barnwell's much-revered new Bible translation textbook. The updated and expanded fourth edition of this historic volume and classic among biblical scholars along with the new edition of the accompanying Teacher's Manual have just been published. This new edition of Bible…
CHARLOTTE, NC — Faith-based organizations, such as churches and nonprofit ministries, must evolve the way they communicate to engage the "COVID generation" — or risk becoming irrelevant, a leading communications agency said today. Many of America's Christian organizations — churches, mission agencies, schools, rescue missions and other ministries — are looking for effective ways to…
PEORIA, IL — An upbeat daily one-minute radio program just added its 1,000th market to its broadcast network by reliably providing practical insights on nutrition, fitness, seasonal health, safety, kids' health, and much more. "Family Health Checkup," the daily 60-second feature produced by Samaritan Ministries International (Samaritan, www.samaritanministries.org), a leading health care sharing ministry, surpassed…
LONDON — It's 65 years since Brother Andrew started taking Bibles to persecuted Christians in Eastern Europe. The work of Open Doors, the organization he founded, has changed significantly in its scope and methods – but at the heart of it is the same God and the same mission. As persecution watchdog Open Doors reached…
IRVINE, CA — Greg Laurie, founder and lead pastor of Harvest Churches and Harvest Crusades, has announced the release of "A Rush of Hope," a one-of-a-kind cinematic crusade coming to streaming platforms August 2020. Created in partnership with Erwin Brothers Films, "A Rush of Hope" will include encouraging messages from Greg Laurie, outtakes from faith-based…
WILLS POINT, TX — Gospel for Asia (GFA World) and Body of Life ministries gave away more than 1,000 boxes packed with fresh food items to needy local families impacted by COVID-19 on Saturday. The ministries organized the food drive, held at GFA World's headquarters in Wills Point, to help families living in Van Zandt…
LOVES PARK, IL — The Slavic Gospel Association (SGA) helped Evangelical Christians in Russia and the former Soviet Union to provide more than 1.5 million free meals to families facing hunger due to COVID-19 — even surprising frontline healthcare workers with food packages and a message of God's love. "We'd like to share with you…
WASHINGTON — The Museum of the Bible has announced a new display celebrating the life of Holocaust hero Corrie ten Boom, a Dutch woman and devout Christian who hid hundreds of Jews and refugees from the Nazis during the Holocaust. The display has been done in partnership with the Billy Graham Evangelistic Association (BGEA). Corrie…
OKLAHOMA CITY, OK — The CARES Act rescued houses of worship that were forced to close during the recent COVID-19 pandemic shutdown. Many faith groups and religious affiliates across the state grasped a financial lifeline through forgivable loans from the federal government. Congress approved the money through the Coronavirus Aid and Economic Security Act (CARES…
ORLANDO, FL — Wycliffe Associates, an international organization that empowers mother-tongue Bible translators and partners with local churches in the advancement of Bible translation, has received requests for 479 Bible Translation Recording Kits (BTRKs) that make it possible to complete an entire recorded translation of the Bible. The kits consist of a computer tablet, translation…
CHARLOTTE, NC — CMM thanks partners who helped send thousands of dollars weekly the last two months for feeding starving brethren in many nations in Africa and Asia. CMM works closely with known, trusted, indigenous missionaries in 70 nations. We have known many of these dear friends for years in India, Nigeria and Pakistan are…
WILLS POINT, TX — A leading mission agency today announced it has provided safe drinking water for a staggering 37.5 million people in South Asia, the world's "thirstiest" continent. The number of people helped by Texas-based Gospel for Asia (GFA World, www.gfa.org) is roughly equivalent to the entire population of Canada. GFA World reported millions…
JERUSALEM — Against the backdrop of the severe economic crisis caused by the coronavirus pandemic, Israel's Ministry of Social Affairs and the International Fellowship of Christians and Jews (The Fellowship) have set up emergency funds in 140 municipalities across the country. The funds will help local welfare departments provide immediate assistance to families and elderly…
BERLIN, GERMANY — Global Outreach Day's GO 2020 mobilized over 57 million Christians worldwide to reach 277 million with the Gospel. Despite social distancing due to COVID-19, Christians shared the Gospel digitally, by phone, text, and through food and mask distributions, with Bibles and tracts, as well as personal evangelism. "We were surprised by the…
MCKINNEY, TX — Christian Vision (CV), a charity that has focused on online digital evangelism for the past ten years, has seen explosive growth in the take up of their digital media. They are supporting churches with FREE digital content for use in their digital mission. In this time of global fear and uncertainty, churches…
GFA World recently published a new report that cites the life-saving impact of malaria-fighting efforts across Asia WILLS POINT, TX — The hunt for a cure for COVID-19 draws attention to another "forgotten" health crisis that continues to claim more than 400,000 lives around the world every year — mosquito-borne malaria. As some political leaders…
BARTLESVILLE, OK— Some 4,000 Christians are killed for their faith each year. To commemorate them – and to stand with the suffering church – believers across the world took part in the Day of the Christian Martyr on June 29. Organizations like Voice of the Martyrs and Release International honored some of the true heroes…
BRISTOL, TN — The Tennessee-based, 18,000-member Christian Medical Association (CMA, www.cmda.org) lauded a Tennessee patient protection policy that protects disabled patients during the COVID pandemic. The policy was announced this afternoon by the U.S. Department of Health and Human Services (HHS) Office of Civil Rights (OCR) and developed collaboratively between HHS, the state of Tennessee,…
WILLS POINT, TX — Marking more than four decades of life-changing ministry on July 3, leading mission agency Gospel for Asia (GFA World, and affiliates like Gospel for Asia Canada) today spotlighted recent achievements — and anticipates the next 40 years will extend its lifeline of God's love across Asia and beyond. In the shadow…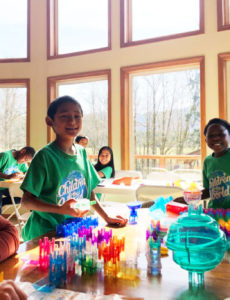 WOODLAND, WA — When an international children's choir's tour was canceled due to the COVID-19 quarantine, Woodland citizens stepped up and made sure these children had a place to stay and food to eat while being stranded in the United States.The Children of the World International Children's Choir is made up of children from Nepal,…
GREENVILLE, SC — Amid rising social tensions in the U.S., one organization today challenged Americans to "invite someone different" to their Fourth of July cookout, calling for a "healing wave" across the nation. "Jesus taught us to 'love one another.' Now, more than ever, America needs to put love into action," said Mark Hancock, CEO…
WASHINGTON — The U.S. Department of Justice has shut down a major human trafficking web site for prostitution and sex trafficking and has indicted the owner. CityXGuide.com was a leading source of online advertisements for prostitution and sex trafficking which served clients across the nation, including a list of 14 "Favorite Cities" such as Dallas,…
EASTON, MD — A satellite television broadcaster in the Middle East is using its unique platform to show that Christians are not a threat as angry protesters attack churches and some blame Christians for COVID-19. After a recent arson attempt on a church in Istanbul — Turkey's largest city — the suspect told police that…
WASHINGTON, DC – The USCIRF (U.S. Commission on International Religious Freedom) released the following statement urging the Administration to immediately enforce the Uyghur Human Rights Policy Act, which was signed by President Donald Trump: "Along with Congress, the official communication and policy of this administration has been unambiguous in expressing both concern and outrage over…
DUNCANSVILLE, PA — The national non-profit ministry focused on fatherlessness Life Factors Fatherless Ministries released A Guide to Ministering to Fatherless Families on One of Their Hardest Days: Father's Day. The purpose of this free guide is to lead local churches across the United States with ideas to evangelize and disciple fatherless families around one…
NIGERIA — Last year attacks by nomadic Fulani herdsmen forced an entire Christian community in Naka, Nigeria to flee their homes. But in February this year, Open Doors was able to deliver vital aid to 1,500 families before Covid-19 travel restrictions were introduced. Pastor Sunday shares his appreciation for the impact this crucial help has…
ORLANDO, FL — Senior Pastor of Northern California's Bethel Church and Best-Selling Author, Bill Johnson, is releasing his inspiring new book, Hope in Any Crisis, about finding peace and comfort when gripped by fear in uncertain times, such as during the COVID-19 pandemic. "It would be wonderful if, in writing Hope in Any Crisis, I…
WILLS POINT, TX — With starvation fueled by the COVID-19 crisis threatening thousands across South Asia, a leading mission agency has launched a new global movement — Don't Mask Your Eyes — to draw attention to starving migrants and their families. "The face mask has become a symbol of our deeply troubled times," said K.P….
The global campaign to make 2020 the "Year of the Bible" is underway. Roughly 400 church leaders and pastors met at the Museum of the Bible in Washington, DC, on Wednesday in an effort to increase engagement with God's Word. Evangelist Nick Hall and his PULSE organization are leading the Year of the Bible, an…
In accordance with the Families First Coronavirus Response Act, 'Farmers to Families' will provide fresh fruits, vegetables, meats, and dairy products directly from farms and package them in family-sized food boxes
The Flame New Testament with Genesis was launched and dedicated in late April in a quiet ceremony in West Africa, in the midst of a lockdown situation. The book and app, which has been supported by Wycliffe Bible Translators for the past 13 years, was launched with little fanfare, but still marks a historic moment…
Bright Hope is a 50-year-old ministry helping poor churches in developing countries.
ORLANDO, FL — Wycliffe Associates, an international organization that empowers mother-tongue Bible translators and partners with local churches in the advancement of Bible translation, reports that Bible translators and their families in remote and poverty-stricken areas are facing starvation due to food shortages resulting from the COVID-19 pandemic. President and CEO Bruce Smith says, "My…
SACRAMENTO, CA — Alternatives Pregnancy Center, a pro-life medical clinic and resource for women in Sacramento, Calif. created a COVID Diaper Drive-through to help moms affected by the coronavirus outbreak. "When this pandemic hit, we had people calling our clinic who had lost their jobs and needed diapers. At this point, people were hoarding diapers…
ROCHESTER, MN — Worship Times today announced a partnership with the Presbyterian Church Camp and Conference Association (PCCCA) to bring summer camps across the country online and into your home with a Virtual Camp Portal. Due to the Coronavirus pandemic, many camps and conference centers will be closed for the summer season. While quarantine may…
WASHINGTON — The International Committee on Nigeria (ICON), a nonprofit working to secure a future for all Nigerians, released a statement today, applauding a new executive order signed by President Trump advancing international religious freedom. The order directs the U.S. Department of State (DOS) and U.S. Agency for International Development (USAID) to take action to…
ORLANDO — In its first 40 years, Christ for All Nations (CfaN), documented nearly 80-million individual decisions to follow Christ. In the years leading up to 2020, CfaN's Lead Evangelist and President, Daniel Kolenda, began proclaiming a Spirit-inspired dream to see as many souls won to Jesus in the next 10 years as the ministry…
All copyrights for this article are reserved to this source