Home Tags Posts tagged with "Father Frank Pizzarelli"
Father Frank joined the Black Lives Matter protest on June 18. Photo by Drew Biondo



By Fr. Francis Pizzarelli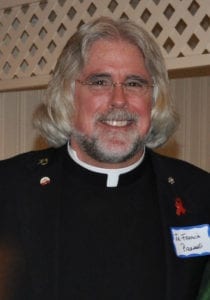 Father Frank Pizzarelli
The pandemic has changed the world as we know it forever. As we attempt to go back to a new normal, many of us will not look at life in the same way. Many families are closer. So many have reassessed what is important and who is important. The workplace has changed. School, colleges, universities will never be the same.
Hopefully these new challenges will empower us to become the best version of ourselves. It has been amazing driving through Port Jefferson Village and seeing so many families sitting on their porches and lawns actually talking and laughing with each other and not texting!
In an instant, we in college education went from in-class human contact to a virtual classroom. It's a whole new experience, a whole different way of teaching and learning.
Life is dynamic. We need to be more flexible and more willing to adapt to change. Too often we get set in a pattern of doing and thinking that is not always life-giving.
In recent weeks the already challenging landscape became more toxic with the unfortunate and tragic loss of life at the hands of law enforcement. This social unrest has given birth to the Black Lives Matter Movement. This movement has spread across the country challenging all fair-minded people to think about systemic racism and discrimination.
On June 18, students from Stony Brook University organized a Black Lives Matters protest in Port Jefferson. We were almost 400 strong as we met at the Port Jefferson train station. We walked down Main Street to Village Hall. We were White, Black, Latino, Asian and Indian chanting and talking. When we reached Infant Jesus Church, we were asked to kneel. The silence was deafening.
What was amazing during those moments of silence were two small children standing in front of me hugging each other; one was black, the other was white. When they turned around and I could see their faces, they both had on t-shirts that said "All Life Matters." As we continued to walk, I could not help but think about that statement. Blacks, browns, documented, undocumented, Asians, Indians, Native Americans, whites, gays, lesbians, bisexuals and transgendered people — they all matter.
This is a powerful moment in history. We need to confront systemic prejudice and discrimination everywhere. Most religions call us to a higher standard, but are equally guilty of discrimination, oppression and prejudice. Our schools and universities, law enforcement in almost every social entity that deals with people needs to step back and look at how they do what they do.
The social unrest confronting our nation is an opportunity for systemic change and reform across the spectrum of all human interactions; every system needs to be held accountable. No one should ever be above that standard.
When we arrived at Village Hall, the speakers thanked the police for their service and thanked all of us for standing together in solidarity. As I left, I did the same. I thanked each police officer for his or her service. I also realized that we need to see with different eyes; we need to hear and listen with different ears. As Gandhi said, we must "be the change that we wish to see in the world!"
Fr. Pizzarelli, SMM, LCSW-R, ACSW, DCSW, is the director of Hope House Ministries in Port Jefferson.
Seniors from The Stony Brook School celebrated graduation last week with a car processional. Photo from The Stony Brook School



By Fr. Francis Pizzarelli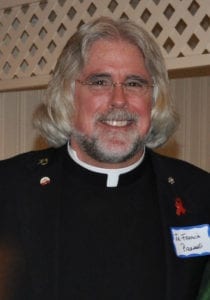 Father Frank Pizzarelli
A new day and a new way! The world as we know it is changed forever. Hopefully, as we slowly begin to embrace the new normal life, lessons learned will not be lost in the fragmented world.
Education on every level has changed. Time will tell if it's for the better. Families have reclaimed and/or rediscovered the value of family life and being together. A new appreciation for the sacredness of life has emerged.
People seem to value human connecting on a whole different level, valuing intimacy over superficiality. Gratitude is much more present in big and small ways. People say thank you and express appreciation for the simple things people seem to take for granted.
This year our seniors will graduate from our high schools. Their graduation will be like no other. All the social trappings and traditions will be missing, but still we will profoundly celebrate their academic achievements. They will lead us tomorrow and hopefully change the world for the better.
During this pandemic, they have demonstrated heroic acts of kindness and compassion. They have done simple things that have made a profound difference in our community.
Seniors, as you graduate, continue to show compassion and understanding rooted in social justice. It is more important than any science formula or social platform. Remember the sunshine when the storm seems unending; teach love to those who only know hate; let that love embrace you as you continue in the world. It is the content and quality of your character that is important not merely the actions you take.
Don't judge a book by its cover or stop at the introduction. Read it through, seeking meaning and value; everyone's life is sacred; even those who are different from you or whom you do not like. Be more inclusive than exclusive. Don't be blinded by those who tend to use shame, blame, and guilt to shackle people down and divide them. Set people free with your respect and nonjudgmental way.
Seniors, as you take leave, may your moral compass be grounded in integrity and respect for all human beings, no matter what their color, their race, their creed and/or their sexual orientation. May your moral compass guide you on a path that is committed to working for peace and social justice. As Gandhi once said, "be the change you hope for this world."
Congratulations graduating class of 2020. Thanks for making our world a little richer, a little brighter and a little bit more hopeful place to be!
Fr. Pizzarelli, SMM, LCSW-R, ACSW, DCSW, is the director of Hope House Ministries in Port Jefferson.
The community came out to wish Chris Pendergast a happy birthday last Tuesday. Photo courtesy of ALS Ride for Life Facebook



By Fr. Francis Pizzarelli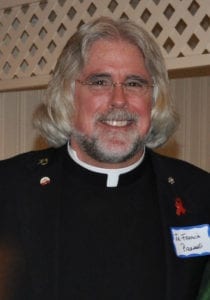 Father Frank Pizzarelli
The summer is fast approaching. The pandemic continues to paralyze the world and our country. However, there genuinely is a spirit of hope that is emerging. 
People need to stay focused. Unfortunately, the mixed messages coming from Washington make it difficult at times for people to believe. We should not get distracted by their incompetence. Listen to the professional voices who know, who are reminding us to be cautious, careful and respectful.
In the midst of all of this chaos and craziness how blessed we are with the random acts of kindness emerging all over the country in every state of our union. Locally, there have been countless signs of gratitude to our medical community and their support staff, to our first responders, EMS workers and our police. We are grateful to those that are staffing our food stores and other essential services, risking their lives every day so that our lives might be safe and reasonable.
There will be a time in the future where we will look back upon this pandemic and be mindful of the life lessons it has taught us. This virus was not man-made; it came upon us because of our planet. It is a powerful reminder that we need to be more attentive to the environment and environmental issues. We need to be conscious not to senselessly pollute the air and our water. We need to be mindful of climate change and global warming and act sensibly to protect the earth and the lives of future generations.
One of the powerful life lessons we need to reflect upon is we are America, not the people who we have elected. It is time for us to lead, to stand up, to be counted and to challenge the bureaucrats to build bridges and not walls; to bring us together like so many ordinary Americans have done across the country during this time of crisis. 
I have been inspired and encouraged by the powerful witness and example of ordinary Americans sharing, caring and reaching beyond themselves to help others and expecting nothing in return!
On April 28 more than 100 cars, motorcycles and bicycles gathered in the parking lot of the North Country Road School in Miller Place. This spontaneous caravan of people of all ages and from all places came to celebrate the birthday of a very courageous man within our community, Dr. Christopher Pendergast. He is a teacher, a scientist, a researcher, a writer and a powerful symbol of hope in a world that often hovers in despair. We gathered on that Tuesday to celebrate his 71st birthday. Twenty-eight years ago he was diagnosed with ALS. He wasn't expected to live but just a few years. His courage, his tenacity and his love of life have sustained him during these past challenging years.
Today, although very disabled, he continues to be a beacon of hope for all of us who are privileged to know him and spend time with him. He continues to raise our consciousness about the importance of ALS research and leads by example. How fitting for this spontaneous caravan with signs and balloons to surprise him and drive past his house to say thank you for his gift of life! That's the real America I believe in.
Fr. Pizzarelli, SMM, LCSW-R, ACSW, DCSW, is the director of Hope House Ministries in Port Jefferson.
By Fr. Francis Pizzarelli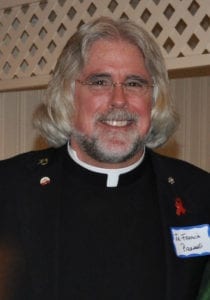 Father Frank Pizzarelli
Life as we know it has radically changed forever. Unfortunately, according to the experts we are not really sure what is before us. We know that unfortunately many more lives will become infected and many more lives will be lost due to this pandemic.
On some level it seems like the world has lost its way. Our national leadership consistently seems to blur the facts and the media continues to fuel hysteria and fear. 
We need to take pause in the midst of the chaos and the fear. We need to express gratitude to those in public service, especially those who have the courage to stand up and lead us. We need to give thanks to the entire medical community that are risking their lives every day to keep us safe and healthy. We need to give thanks to our first responders, our EMS workers, and our law enforcement who are challenged every day as they attempt to keep us safe. Each of them is risking their personal health and safety on our behalf. We are blessed.
Unfortunately, at times it seems so much easier to focus on all the negativity, all of the fear, and lose sight of all of the goodness and all of the hope that is alive in our midst. Every day there are countless stories of ordinary people acting in heroic ways in the service of our community, in expressions of love and compassion for others. It would be refreshing if the news media celebrated a little more optimism and what ordinary people are doing during this time of national crisis.
Every day I am profoundly touched by what I see firsthand in our local community. Ordinary men and women anonymously engaged in random acts of kindness; countless strangers reminding us in simple ordinary ways what it really means to be a community. People reaching out and building bridges instead of walls; embracing their neighbors with a profound sense of concern and support.
As we navigate our way through these difficult days that probably will become difficult months, let us look at this time not as a burden but rather as an opportunity to become the best version of ourselves as we continue to reach out to the most vulnerable among us.
Let us try to remember that negativity and hysteria don't change the facts; we are trying to live through the worst pandemic in our lifetime. Scaring people is not going to change the facts; constantly focusing on the negative is not going to change the facts. However, being a people of hope filled with positive energy is going to transform an unbearable situation into something we will all get through because we are a part of a community that cares, a community of balance, of compassion and of unconditional love. 
This too will pass and, hopefully, we will all be better for it.
Fr. Pizzarelli, SMM, LCSW-R, ACSW, DCSW, is the director of Hope House Ministries in Port Jefferson.
By Fr. Francis Pizzarelli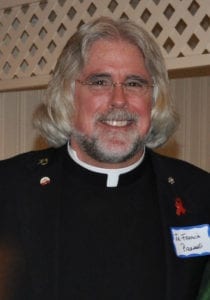 Father Frank Pizzarelli
It is already March, the temperatures are changing, the political rhetoric continues to intensify and the nation is now facing a new health crisis, the coronavirus. 
In the midst of all of this, Christian communities around the world have begun their season of Lent, a time of inner reflection and pro activity to prepare those who believe in Jesus for Easter.
The beginning of the Lenten season is marked by the spiritual tattoo of ashes in the sign of the cross on one's forehead. At that service, Christians are encouraged to consider three different ways to prepare for Christ's death and resurrection. 
The first recommendation is to find time in the midst of all of our chaos and craziness to pray, even if just a few moments, be consistent and do it every day during Lent. Not just the multiplication of words, or if you will, that give me God prayer but rather, use it as a time to listen to God speak to your heart.
The second recommendation is almsgiving; traditionally understood from a biblical perspective to give money to the poor. The focus of this recommendation is upon generosity of spirit — that the giving doesn't have to be about money but it also can be about giving your time and your talent to others.
In simple terms, volunteer in a soup kitchen or a shelter for the homeless. Po' Boy Brewery in Port Jefferson Station collected blessing bags for the poor and dropped them off at a local homeless shelter. Most of us reading this column could commit to bringing canned goods and other non-perishable foods to a local church or synagogue for the poor and needy on a regular basis -— that is genuine almsgiving. 
The third recommendation is fasting. For many Christians, it's the yearly opportunity to go on a diet, give up all kinds of foods that we like and by the next day break every resolution we made.
Genuine fasting is supposed to be about changing an attitude or behavior that blocks us from fully loving and forgiving one another unconditionally. I don't think it should be a practice only embraced by Christians during Lent but rather a practice all caring human beings should consider embracing all year long as we all try to make the world a better place.
This particular recommendation might be appropriate for all of our elected officials to consider. How about for 40 days, everyone who leads us fast from name-calling, from rude and disrespectful comments, from lying and misrepresenting the truth and from being judgmental?
As many of you know, I live with 62 people in the early stages of recovery hoping for wellness. At our Lenten service this year, I suggested in regards to fasting that they consider a couple of things: how about fasting from the F curse, how about fasting from blaming everyone and their brother for your addictive behavior, how about fasting from anger and the poor me pity party? 
It's only been two weeks … but hope springs eternal!
Fr. Pizzarelli, SMM, LCSW-R, ACSW, DCSW, is the director of Hope House Ministries in Port Jefferson.
By Fr. Francis Pizzarelli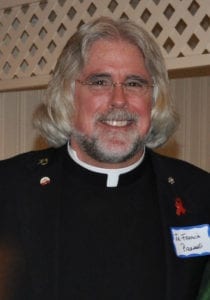 Father Frank Pizzarelli
As the New Year begins, let's not be distracted by a political rhetoric that is more fixated on ad hominem attacks and divisiveness but rather let us support positive action on behalf of all Americans.
As we begin a new decade, it is imperative that people from every race, religion, ethnicity, sexual orientation and social class commit themselves to a new social discourse that is grounded in civility and respect for all people no matter what their political and philosophical perspectives. We can no longer remain silent about the reprehensible conduct of those who lead us. Being silent is being complicit. By that silence, we say that this horrific rhetoric and demeaning language is okay.
Our country is founded on the principle We the People. We must renew our commitment to stand up for social justice, for equality and inclusiveness for all people, no matter what their ethnicity, race, color, sexual orientation, economic or social status.
The leaders of our faith community, both locally and nationally, must move out of their coma of silence, not become political or feed the rhetoric of hate and divisiveness, but rather they must stand up and call us to civility and a discourse that supports and respects the human dignity and integrity of every American citizen.
Our moral compass seems to be broken. We can no longer count on those who lead us civically and religiously to recalibrate it. We must have the courage to stand up and be counted to speak out on behalf of the poor, work for social justice, for peace and for human rights for all and believe we can truly make a difference. I see these miracles happening every day. I think they can become contagious.
At the beginning of every new year, we traditionally make a series of New Year resolutions that we break by Jan. 2. This year let's identify some important social issues that urgently need to be addressed and work diligently at creative solutions that will improve the quality of life in all of our communities.
Homelessness is a growing problem across our county. Our traditional approach is a poor Band-Aid that sets most homeless people up for failure. The poor and the homeless live in the shadows. They've no fixed address so they have no political representation — no one to voice their concerns and struggles.
Our Department of Social Services, which is charged to deal with the homeless, is working with an antiquated model that is outdated and inefficient. Therefore, costing you, the taxpayer, an extraordinary amount of money and does little to break the cycle of poverty and homelessness in our midst.
Let us be mindful that more and more of our homeless are mentally ill, drug addicts and returning veterans suffering from untreated PTSD. We lack the basic human resources to break their cycle of dependency on the system.
Although Suffolk County has seen a decrease in fatal opioid overdose, the opioid crisis is still devastating communities across America. We are still paying lip service to a national infection but are doing little to treat it effectively. Evidence-based treatment says we need long-term residential treatment beds for a minimum of one year to 18 months, if we hope to empower the recovering addict to wellness and long-term recovery.
We have very limited resources in this regard. The few resources we do have are overtaxed with referrals and are underfunded. The time for talking is over; it's a time for positive action!
May this new year and new decade be a new beginning for making our country great again — grounded in dignity and respect for all. Let us become the change we hope for!
Fr. Pizzarelli, SMM, LCSW-R, ACSW, DCSW, is the director of Hope House Ministries in Port Jefferson.
By Fr. Francis Pizzarelli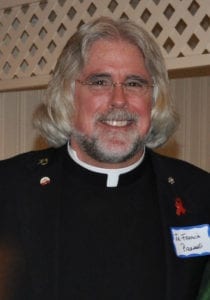 Father Frank Pizzarelli
"Acting responsibly in an irresponsible world!" was a topic I created for a class conversation in my Introduction to Social Work class at Suffolk County Community College. 
The conversation that ensued was beyond words. These college students represent the next generation of leaders and thinkers. They were insightful and challenging. It was clear to me that they were not being influenced by our present class of leaders or lack thereof.
What does it mean to live in an irresponsible world? They immediately pointed to our federal government and the lack of leadership. They expressed amazement at how so many bright, well-educated and experienced lawmakers could not have a civil conversation on any real issue. It should not matter if the participants are from the same political party or different political parties. They have been elected by the people to build bridges not walls.
This dynamic group of college coeds, most of whom are juniors and seniors, continued to talk about our irresponsible world. They touched on everything from undocumented immigration to health care, gangs, gun safety, racism, human trafficking and our poor care for the poorest of the poor among us.
As the conversation moved from an irresponsible world to acting responsibly, these students spoke about what really matters to them. No matter who is speaking, from the president to a homeless person, no one has the right to speak disrespectfully of another, to demean, name call and put people down.
Words matter. Calling people scum and lowlifes, making fun, calling people negative names; the list is endless and is clearly inappropriate. When people in public office engage in that kind of language, they dishonor and disgrace the office they hold, from the presidency to Congress. 
What my students found most disturbing is that so many respectable people elected to serve the needs of all Americans have been silent about this reprehensible language or have made lame excuses for why it is not a big deal. Some of our religious leaders have also have been painfully silent on this issue. 
My students pointed out that if their teacher or clergy person acted in this way, he or she would be sanctioned immediately and removed from their position. They expressed sadness that this behavior has clearly lessened respect for the most important office in the land — the office of the presidency.
So how do you act responsibly in an irresponsible world? Despite their poor role models in this regard, my students spoke passionately about being responsible, caring for the poor, being men and women of honesty, respect and integrity.
They acknowledged the need for more civic engagement on their part so that they can change the social and political order. They expressed a genuine commitment to restoring the social and political order to a civil and respectful landscape where all Americans are treated equally with dignity and respect.
These students expressed there is no place on the American landscape for racism, discrimination, violence, hate groups, divisiveness — no matter what one's nationality, religion, economic status and sexual orientation.
We are a nation that was founded on religious liberty and freedom for all; a nation committed to social justice and human rights; a nation that must work to build bridges and not walls.
When the class finished on that Wednesday afternoon, I left renewed and hopeful that things will get better for all of us thanks to the next generation!
Fr. Pizzarelli, SMM, LCSW-R, ACSW, DCSW, is the director of Hope House Ministries in Port Jefferson.
Vaping is a new health hazard. Stock photo



By Fr. Francis Pizzarelli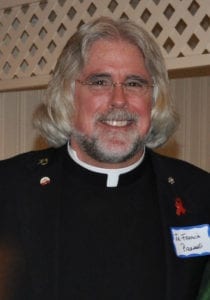 Father Frank Pizzarelli
It is hard to believe that summer is over and another school year has begun. This year the landscape for the opening of the new school year has been marred with another mass shooting and Hurricane Dorian, which has paralyzed the south eastern part of our country.
Schools around the country are beginning a new school year with intense anxiety around gun violence and the country's inability to come up with reasonable, effective gun safety regulations that protect people's safety and people's Second Amendment rights.
The lack of decisive leadership on the part of those we have elected to lead is scandalous. The lack of clarity and the profound silence from the White House is deafening and shameful. Gun safety should be a priority issue that should not be buried in the political rubble of partisan politics. People from both sides of the aisle should be able to come together and pass legislation that protects the quality of life for all Americans. If they cannot, then simply vote them out!
As an educator and mental health professional, it troubles me deeply how those who lead us are quick to blame the mentally ill for all of our mass shootings. Every mass shooter has not been mentally ill. Yes, a number have, but our system for support of those battling mental illness at best is poor and honestly is so broken and fragmented that de facto it is useless.
We have an insurance system that sets people up for failure; when it should empower people to wellness. We must address the stigma we impose on people who need help with mental health issues and/or addiction issues.
Finally, we are holding the big pharmaceutical companies accountable for fueling the opioid epidemic. Will any of those billions of dollars be directed to long-term residential treatment or will they get lost in a bureaucracy that has lost its way?
We have to have the courage to do things differently, and the new school year is an excellent opportunity to live differently. Education is a gift, and our children should learn early on what a tremendous opportunity is being given them. Attending class, doing homework and excelling should be everyone's expectation. We need to hold our children accountable; as parents we need to collaborate with teachers and school administrators to create the most life-giving environment for all of our children to grow and excel.
We also need to be concerned about our children's social behavior. It is troubling that a growing number of our children in junior high school through college age spend more time on social media and texting than they do on face-to-face human communication and studying.
Ask your junior high and/or high school student if he or she could give up his or her cellphone for one month. Most will tell you no! Remember life before cellphones and social media? This present generation is not learning how to effectively communicate and build healthy human relationships.
One last concern as the new school year begins — vaping, e-cigarettes — are a new health hazard. Don't be brainwashed by advertisements to believe that e-cigarettes and vaping are an excellent deterrent to smoking. They are not! Our children are not just vaping their favorite flavors, but cannabis.
These are not social behaviors that are healthy for our teenagers and young adults to indulge in. We need to take our blinders off and do our homework if we genuinely care about our children.
Fr. Pizzarelli, SMM, LCSW-R, ACSW, DCSW, is the director of Hope House Ministries in Port Jefferson.
Father Frank speaks at candlelight vigil for Robert Grable on July 22. Photo by Kyle Barr



By Fr. Francis Pizzarelli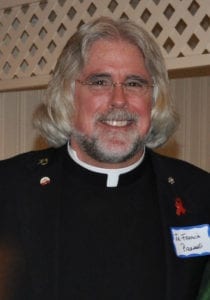 Father Frank Pizzarelli
These past two months have been an extraordinary time. Mass shootings occurred in California, Texas and Ohio. The Democratic debates in Detroit captured the nation. The unfortunate, reprehensible rhetoric that came out of Washington that lacks substance and is focused on hatefulness and attacking the character and integrity of people in leadership was most disturbing.
The presidency is supposed to be about unity, not dividing us. The presidency is supposed to provide support of the moral fabric of our nation, which is founded on diversity, integrity and the respect for human rights for all. Painfully, the end of July underscored everything we are not.
However, more disturbing than the despicable rhetoric coming out of Washington has been the deafening silence of our religious leaders across the country.
Shame on the leaders of all of our major religious traditions — religions that preach compassion, forgiveness, respect, inclusiveness of all; religions that claim they are founded on social justice and human rights, focused on building bridges and not walls. Your silence is deafening at a time when we desperately need your prophetic voices and leadership to challenge the infectious behavior in Washington. By your silence, you are complicit!
There are a few local clergy who are courageous, who are speaking out against injustice, who lead by example! There is a sign outside of a church in Mount Sinai that reminds us boldly that, "We must protect the environment. Care for the poor. Forgive often. Reject racism. Fight for the powerless. Share earthly and spiritual resources. Embrace diversity. Love God. And enjoy this life." Amen; hope lives.
In the midst of this craziness, I witnessed firsthand the power of community at its best especially in a time of crisis and pain. In late July, a very dynamic and compassionate educational leader died suddenly of a heart attack at the age of 49.
Rob Grable was the principal of Mount Sinai High School. I first met him when he was the assistant principal in the junior high school. I did a program on social responsibility for the eighth graders. We reconnected when he became the principal of the high school and collaborated on a number of projects for his high school students to build and strengthen community and social responsibility.
After his sudden death on a Monday night in late July, the district held a candlelight vigil to honor this dynamic, educational leader. Close to 2,000 people gathered in the rain to honor a man who was everyone's principal. Mount Sinai was his life. He was everywhere for everyone. He walked with academic students, with the athletes, with the students who struggled, with the fringe students. They all claimed that Mr. Grable was their principal. His colleagues talked about a man of impeccable character and integrity, a mentor, a friend, a confidant, with tears in their eyes.
That night I was honored to be asked to offer prayer, but more importantly I felt privileged to be a part of a moment in history where we were a community at its best — men and women, students and former students holding hands in solidarity to honor a man who profoundly made a difference in so many lives, reminding all of us that we can all be people of integrity; that we have the power to make a difference in our world. It is fitting that the school district plans to rename Mount Sinai High School the Robert Grable Memorial High School.
Fr. Pizzarelli, SMM, LCSW-R, ACSW, DCSW, is the director of Hope House Ministries in Port Jefferson.


All copyrights for this article are reserved to this source